29.05.2020 It was chordal openning for sure. Big area with high muf, some kind of E-layer duct.
CT1IUA 2587km, new ODX ES 144MHz, 9 new LOC, new DXCC.
Log:
14:04 EA1V IN70DX FT8 2134km
14:05 EA1XY IN82DI FT8 1908km
14:09 EA1JAZ IN72RA FT8 1983km
14:20 EA1HRR IN83JJ FT8 1800km
14:34 EA2Z IN92EE FT8 1797km
15:04 EA7KZ IM87CS FT8 2289km
15:08 EB5GC IM97JX FT8 2134km
15:23 CT1IUA IM67AA FT8 2587km NEW DXCC, NEW ODX
15:33 CT1ADT IM57NW FT8 2566km
16:19 EA7HLB IM76OP FT8 2442km
17:26 CT1FJW IM58KT FT8 2511km
17:32 CT7ABA IN60GD SSB 2304km
18:12 F6FGQ IN78QJ SSB 1591km
18:16 F5PHW IN87JS FT8 1526km
---
It was wonderful openning. I had terrible noise problems and big qrm from local stations (+34dB on FT8). New DXCC, and new squares, new ODX ES.
During best signals from south-central Spain on FT8 – nobody on SSB ! ! ! I called many times CQ no answer.
I heard multiple rare and missing locs, about 80!!! stations from EA – probably all squares, whole country but not workable on FT8, due wrong periods, QRM, and my small power. The same time with CT signals I heard France and Italy on ES also shortest QRB like.
Next time guys please use also your mouth and brain for SSB ! ! !
SP7NHS 5495km, SP6RGB 5228km heard D4VHF ! ! !
D4VHF heard SP6VGJ 5328km, SP7NHS 5495km, SQ5AAG 5600km and SP5XMU 5609km !!!
Also nice distance reports between CU3EQ – UR9UR/YO7FWS and others, same as CN8-SM0.
Later I will try to point out all stations heard by me during this amazing ES.
https://mmmonvhf.de/es.php?year=2020&month=05&day=29#id10093
I heard: CN8, 9x CT , 79 x EA , 12 x F, 1x I
CN8LI IM63VX 2756km! , CT1ADT IM57NW , CT1CAD IM67GE , CT1END IM58IS , CT1FJW IM58KT , CT1GVN IM67DC , CT1HMN IM58NN , CT1ISH IM58HR , CT1IUA IM67AA, CT7ABA IN60GD , EA1BHB IN82EI , EA1FGJ IN82EI , EA1HRR IN83JJ , EA1ITL IN70DW , EA1JAZ IN72RA, EA1MX IN73XK m EA1NJ IN71PP , EA1SA IN83FJ, EA1S IN72FO , EA1V IN70DX , EA1XY IN82DI , EA2CCG IN92AO , EA2CDY IN82VI , EA2KK IN83LH , EA2Z IN91MP , EA3ADW JN11DQ , EA3CAZ JN01SE , EA3IAA JN01XK , EA3IFC JN01UF , EA3IFH JN11GP , EA3NG JN01OC , EA3NJ JN01UF , EA3SI IN73DM , EA3TA JN11BM , EA3WD JN01XK , EA4BAS IN80HL , EA4BVW IN70XF , EA4CYQ IM78CX , EA4D IN80KN , EA4DEI IN80CI , EA4DS IN80EK , EA4DUT IN80EJ , EA4ETM IN80EJ , EA4FIT IN80DI , EA4GJA IN80DJ , EA4GMY IN80EK , EA4HL IN60XA , EA4LU IM68TV , EA4SG IN80CP , EA4T IN70XK , EA4YR IM78BX , EA5AQB IM98MK , EA5BFA IM98NK , EA5CLH JM08BR , EA5EY IM99SQ , EA5FSJ IM98RK , EA5IDZ IM97JW , EA5IEA IM97JV , EA5JX IM98XO , EA5NB IM99TL , EA5T IN80AA , EA5U IM98SR , EA5W IM97KX , EA5WU IM99WU , EA6AAU JM19ML , EA6SX JM19IK , EA6TC JM19JN , EA6VQ JM19HN , EA6XQ JM19LH , EA7BHO IM87DD , EA7CI IM77PV , EA7DL IM87CS , EA7HLB IM76OP , EA7HLY , EA7KI IM76RR , EA7KZ IM88EC , EA7P IM76IU , EB1MM IN72FN , EB3DKE JN11AN , EB3FSE JN11AH , EB4GLE IN80CH , EB5GC IM97JX , EB5BQC IM98OL, EB5BZH IN70NI , EB5GC IM97JX , EB5HRX IM99TL , EC1R IN71SW , EC5W IM98QG , F1AAM JN23ML , F1GHX JN24JT , F1LII JN03RI , F4GWG IN77TT , F4HAB JN03RO , F5JYS JN23PM , F5MUX IN78XC , F5PHW IN87JS , F6DBI IN88IJ , F6FGQ IN78QJ , F6KHM IN78RJ , F8DBF IN78RI , IK1ZOF JN35UB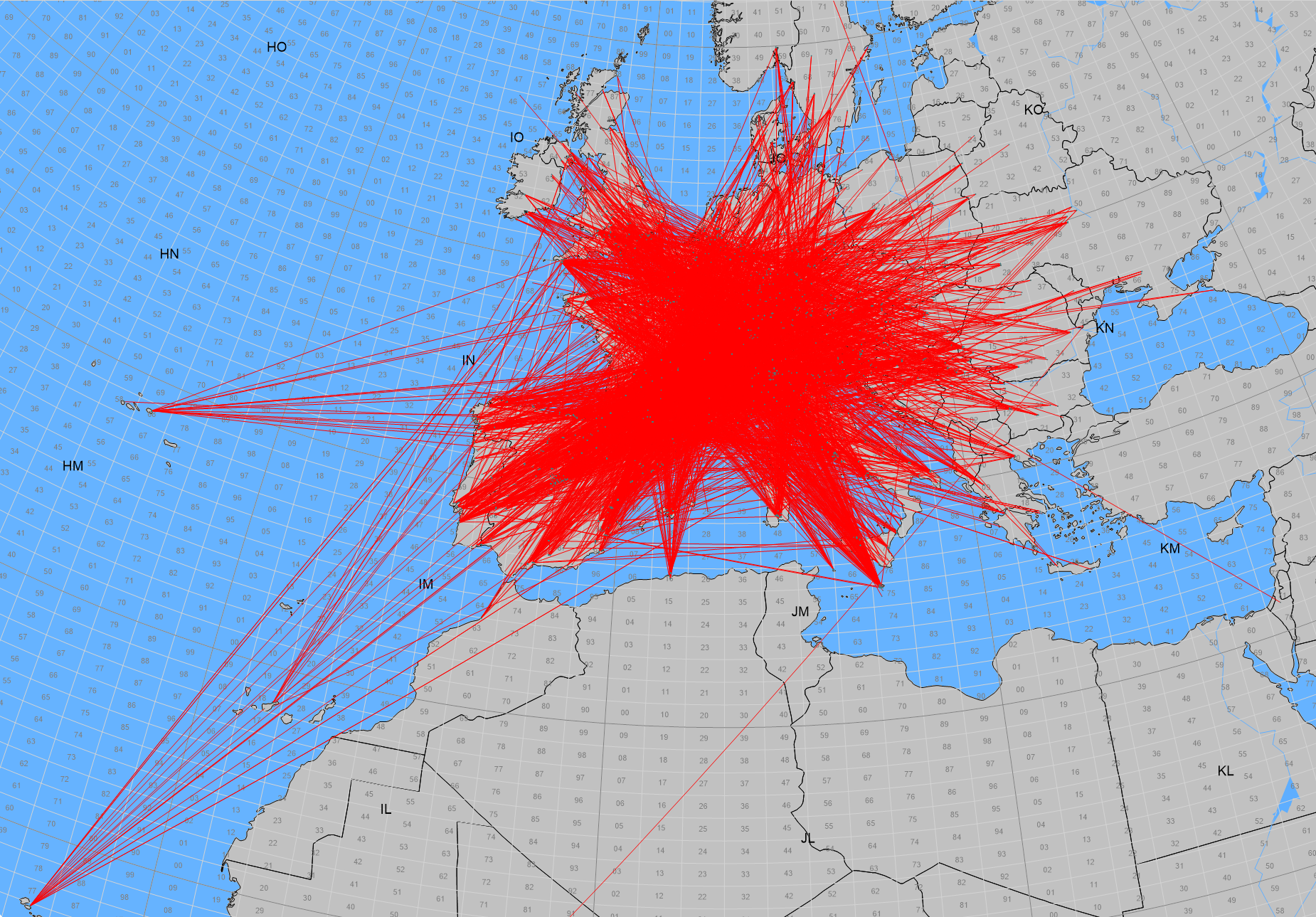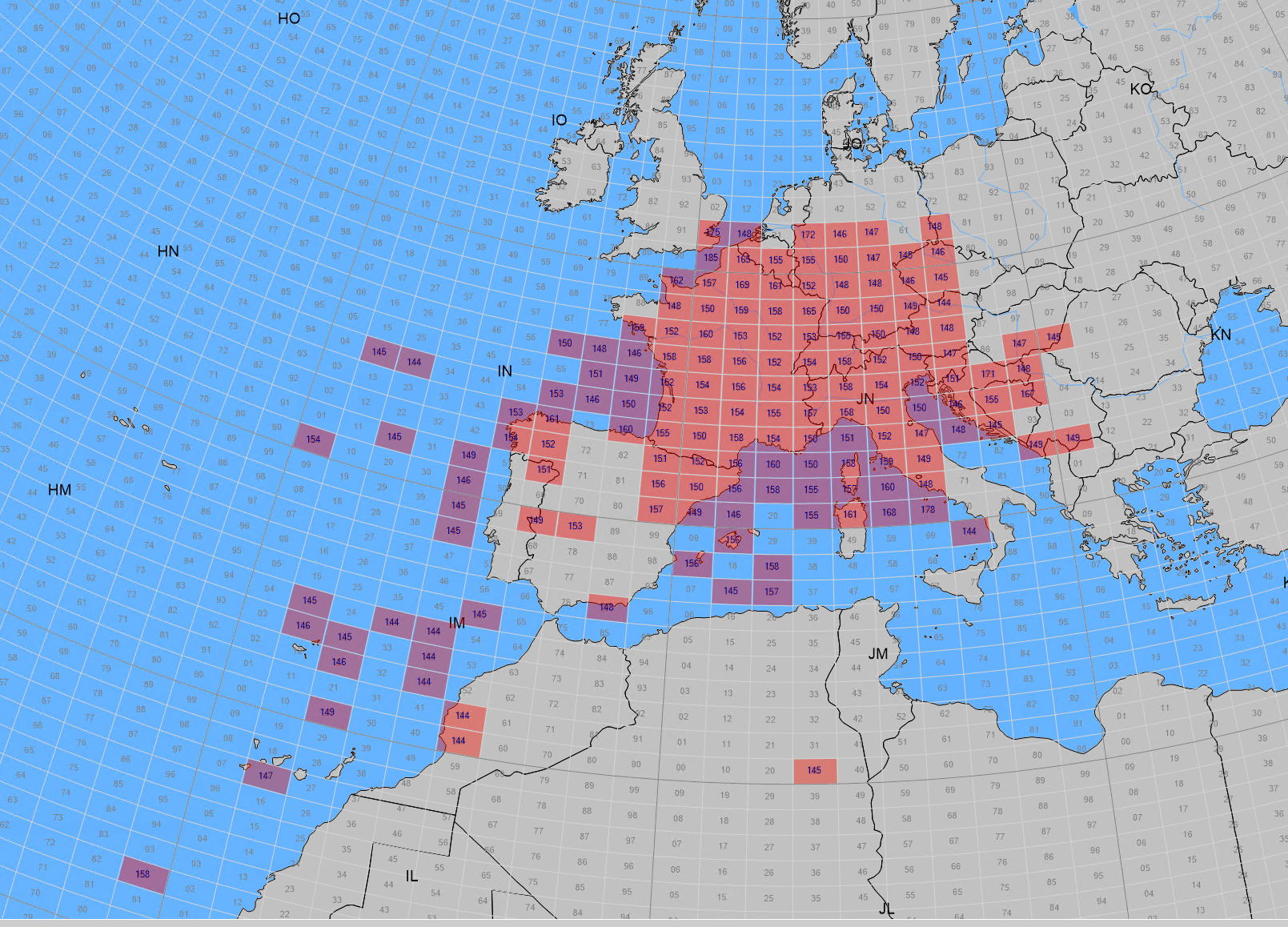 QSO: